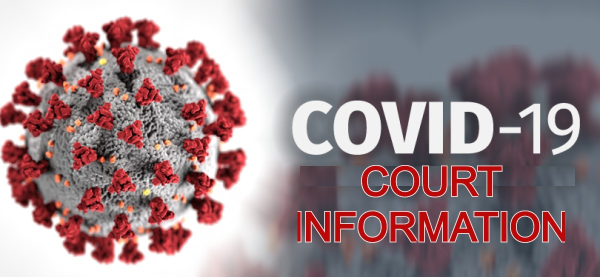 Information Regarding Coronavirus (COVID-19) and Court Operations
The Orange County Superior Court is closed to the public, with minimal exceptions for time sensitive matters, or matters pertaining to the safety and security of the community.
Over the coming days and weeks the Court may be frequently changing the services available to the public. The Court is mindful of the balance that must be maintained between the timely administration of justice and protecting the health, safety, and well-being of our employees, justice partners, and the Orange County community.
Given the fluid nature of this Covid-19 crisis, and the ever-changing availability of resources, you are encouraged to frequently check this website. For the most up to date information, please see below.
Covid-19 Court News and General Information
| Document Name | Date Issued | Time Issued | File |
| --- | --- | --- | --- |
| Court Set's Up Triage Booths to Serve Public's Needs | 6/30/20 | 1:00pm | |
| Court Adds Collections of Fines and Fees for Traffic and Criminal Matters to Counter Service Self-Scheduling App | 6/15/20 | 11:00am | |
| West Justice Center to Be Closed on Friday, June 5 | 6/05/20 | 8:00am | |
| Jury Press Release | 6/03/20 | 5:00pm | |
| Jury Press Release | 5/22/20 | 3:00pm | |
| Orange County Superior Court Announces Soft Re-Opening | 5/21/20 | 12:00pm | |
| WebEx Instructions | 5/21/20 | 7:00am | |
| Traffic Citations DMV - Driver's Licenses License Holds Released Temporarily | 5/18/20 | 9:00am | |
| Orange County Trial Lawyers Association donates 1,000 protective face masks to the Superior Court | 05/12/20 | 12:00pm | |
| Court Closure Extended to May 22 (COVID-19) | 04/24/20 | 5:30pm | |
| Traffic Citations Hearings & Compliance Due Dates | 4/10/20 | 2:30pm | |
| Additional Emergency Protocols | 04/09/20 | 1:00pm | |
| Instructions for the Use of Microsoft Teams Conference Software | 04/09/20 | 2:30pm | |
| COVID-19 Court Closure - Emergency Protocols | 03/30/20 | 8:30am | |
| Update on Court Closure Dates Due to COVID-19 | 03/27/20 | 5:30pm | |
COVID-19 Administrative Orders
| Document Name | Order No. | Version No. | Issued Date | Duration | File |
| --- | --- | --- | --- | --- | --- |
| Second Amended Administrative Order Required Safety Measures and Face Coverings in Court | 20/16 | 2 | 07/15/20 | - | |
| Sports And Exercise Prohibition Order | 20/21 | 1 | 07/09/20 | - | |
| Emergency Administrative Order for Emergency Bail Reductions and Own Recognizance | 20/20 | 1 | 06/19/20 | - | |
| Temporary Procedure To Establish Good Cause To Conduct Civil and Probate Jury Trials | 20/18 | 1 | 06/17/20 | - | |
| Procedure for Granting In Person Public Access to Criminal Jury Trials | 20/19 | 1 | 06/17/20 | - | |
| Amended Administrative Order Required Safety Measures and Face Coverings in Court | 20/16 | 2 | 06/17/20 | - | |
| Supplemental Trial Court Implementation Emergency Order COVID-19 | - | 2 | 06/17/20 | - | |
| Supplemental Trial Court Implementation Emergency Order COVID-19 | - | 1 | 06/05/20 | - | |
| Amended Fourth Implementation Order | - | 1 | 05/27/20 | - | |
| Required Safety Measures for COVID-19 Exposure | 20/17 | 1 | 05/27/20 | End of SAH +90 days | |
| Required Safety Measures and Face Coverings in Court | 20/16 | 1 | 05/21/20 | End of SAH +90 days | |
| Amended Implementation of Emergency Order (3rd) Court Closure 4/27/20 to 5/22/20 | 20/13 | 1 | 04/28/20 | 05/22/20 | |
| Implementation of Emergency Order (3rd) Court Closure 4/27/20 to 5/22/20 | 20/13 | 1 | 04/24/20 | 05/22/20 | |
| Court Closure – Supplemental Emergency Order – Chief Justice – COVID 19 – 4/27/20 to 5/22/20 | 20/13 | 1 | 04/24/20 | 05/22/20 | |
| Order Extending EPOs 30 days and GVROs 90 days | 20/13 | 1 | 04/10/20 | 05/10/20 | |
| Closing Non-Essential Proceedings 3/17/20-4/24/20 and Extending Letters | 20/07 | 2 | 04/08/20 | superseded | |
| Closure of Non-Critical Hearings until 4/24/20 and Identifying Essential Juvenile Procedures | 20/05 | 3 | 04/07/20 | superseded | |
| Jury Trial 60 day Suspension Absent Good Cause | 20/11 | 1 | 04/02/20 | 06/01/20 | |
| Closure of Non-Critical Hearings until 4/24/20 and Identifying Essential Juvenile Procedures | 20/05 | 2 | 04/07/20 | superseded | |
| Implementation Order (Supplemental) re: Critical Hearings and Suspending Non-Critical Proceedings | - | 3 | 03/30/20 | superseded | |
| Implementation of Emergency Order (2nd) Court Closure 3/20/20 to 4/24/20 | - | 2 | 03/27/20 | superseded | |
| Prioritizing Essential Proceedings and Suspending Civil Family and Probate Proceedings 60 days | 20/9 | 2 | 03/24/20 | superseded | |
| Closing Non-Essential Proceedings and Extending Orders 3/17/20-3/27/20 | - | 1 | - | - | |
| Closing Non-Essential Proceedings and Extending Orders 3/17/20-3/27/20 | - | 1 | - | - | |
| Implementation of Emergency Order (1st) Court Closure 3/17/20 to 3/27/20 | - | 1 | 03/16/2020 | superseded | |
| Implementation of Emergency Order Court Closure 3/17/20 to 3/27/20 | - | 1 | 03/16/2020 | superseded | |
| For previous Court Notices & Administrative Orders visit our archive by clicking HERE | - | - | - | - | - |
Other Related COVID 19 Information
| Document Name | Issued Date | File |
| --- | --- | --- |
| What You Should Know - HCA | - | - |
| Chief Justice 3/26/20 Emergency Order authorizing treating closure as holidays, extending deadlines 3/30/20 to 4/24/20 | 3/26/20 | |
| Chief Justice 3/16/20 Emergency Order authorizing treating closure as holidays, extending deadlines 3/17/20 to 3/27/20 | 03/16/2020 | |
| Chief Justice 3/30/20 Statewide Order extending deadlines | 03/30/2020 | |
| Chief Justice 3/23/20 Statewide Order suspending jury trials by 60 days | 03/23/2020 | |
| Governor's 3/27/20 Order granting Judicial Council emergency powers | 03/27/2020 | |
| Governor's 3/4/20 proclamation of a State of Emergency | 03/04/2020 | |
| Governor's 3/19/20 Safter at Home Order | 03/19/2020 | |
| County Health Officer's 3/18/20 Amended Order re: Social Distancing | 03/18/2020 | - |
| President Trump's 3/13/20 proclamation of National Emergency | 03/13/2020 | - |
| Emergency Rules 1-11 to CRC lower jail populations, suspend evictions & foreclosures, extend emergency orders | 04/06/2020 | |
| Emergency Rule 12 | 04/17/2020 | |
| Emergency Rule 13 | 04/20/2020 | |
| CDC - Coronavirus General Information | - | - |